I've been practicing a lot of self-care in recent months, and one thing I've been really into is trying new beauty products. I'm always up for seeing what's out there and I've found so many favorites lately to share with you!
body products
Spongellé Body Soufflé: These have been such a treat to use because they're SO moisturizing, and they have a bit of shimmer. Throughout this entire pandemic, my favorite indulgence has been fragrance. It invokes memories and feelings for me that help me transport myself to another place, similar to how I feel while reading a book. There are many scents available on their website, and each of them sound dreamy: Brilliant Tuberose, Pearl Blossom, Radiant Amber, and Moon Flower.
I own Pearl Blossom and Brilliant Tuberose. You don't need very much at all, and the fragrance is entrancing. I've been layering these with other fragrances in my collection because the musk notes from the soufflés pull through and complement other scents beautifully. I love wearing the soufflé with an oversized shirt so you can see the shimmer gleaming off of your collarbones and shoulders and wherever else you've put it. It looks so dreamy! As an added bonus, the products are vegan-friendly and cruelty-free.
Juliette Has a Gun Sunny Side Up: I've been hoarding perfume like it's going out of style during the pandemic. Scent is a huge comfort to me so I've been buying tiny bottles of things I'm discovering. I love sandalwood and musk, so when I discovered Sunny Side Up in a variety pack by Juliette Has a Gun I was immediately attracted to it. The fragrance is warm, creamy, and gourmand…all of my favorite things.
I totally hate the name, because "sunny side up" reminds me of eggs, but the brand meant to evoke the feeling of warm and sunny for this fragrance. For me, egg words do not hit the spot for me in describing perfume, but it is what it is. I love the fragrance! This also layers beautifully with the Spongellé body products too.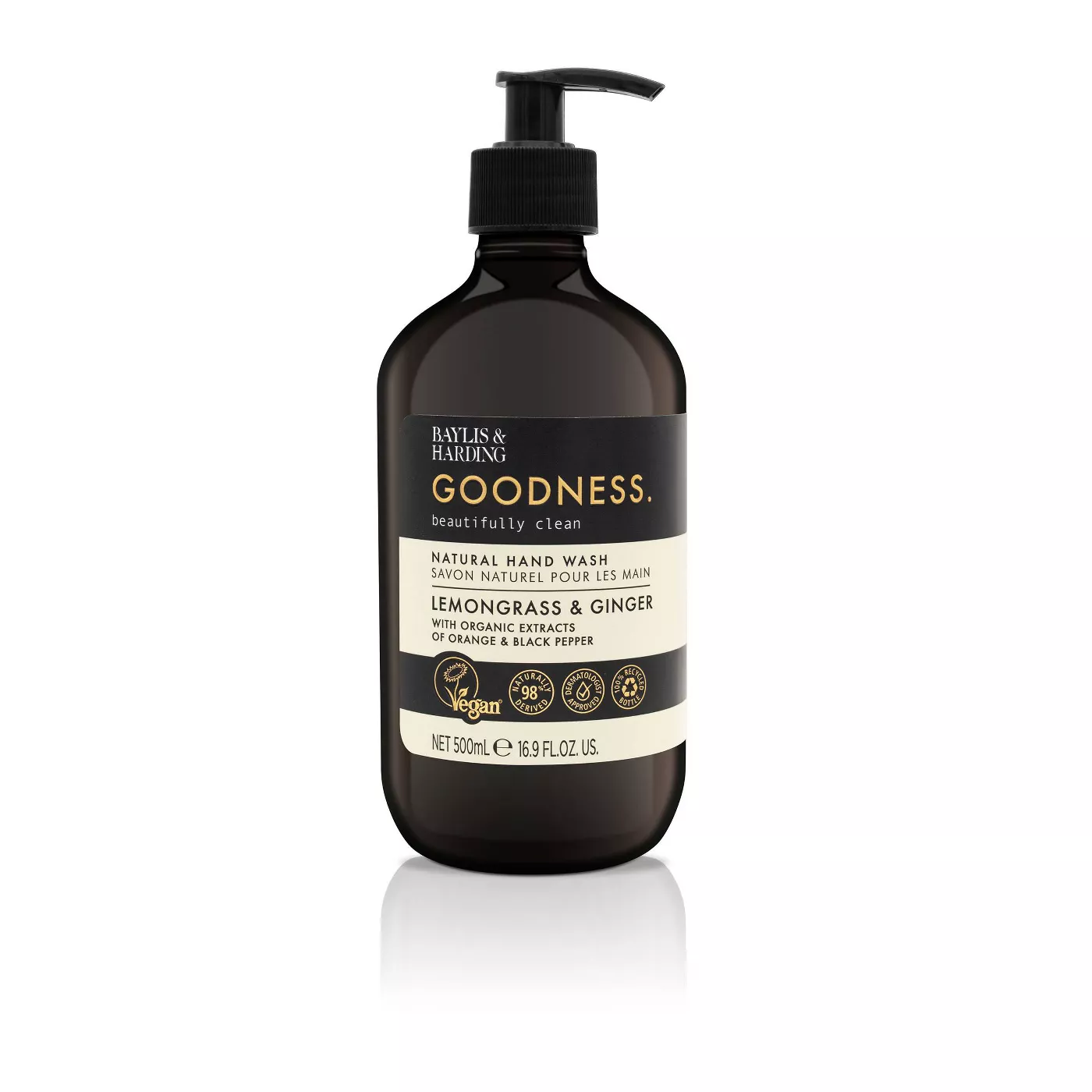 Bayliss & Harding Goodness Hand Washes: I don't typically care one way or another about hand soaps, but I recently found these vegan, paraben-free, dye-free, sulfate-free hand washes from Target, and they're awesome. For $5.99 you get a ginormous bottle (500ml) of soap, and the scents are divine. Right now, there are four scents available, and my favorite is the Oud, Cedar & Amber. This scent is so yummy I would wear it as as perfume in a heartbeat. It's woody, herbal, and has some delicious essential oils including sandalwood (my favorite).
These are the perfect hand washes, from the huge size and cheap price of the bottles, to the fact that they are dermatologist approved, gentle, and even the packaging is 95% biodegradable. I love that this brand has thought of everything, as well as coming out with some awesome scents. We are constantly washing our hands at my house, and we are thoroughly enjoying these soaps. Did I mention that at 500ml the bottles last FOREVER?
eye makeup
Natasha Denona palettes: I bought both the Bronze palette and the Glam palette recently. I've always wanted to try this brand, and not only are the color groupings fabulous in both of these, but they contain mostly every shade I would ever want from both cool and warm ranges. Both palettes have a range of formulas and textures- mattes, duo chromes, metallics, shimmers, etc. I find them both to be very flattering. Mostly I bought these because I think if I own these two palettes, I probably won't ever need another! 😂 Any tutorial I watch on YouTube or any eyeshadow look I'm hoping to create could probably be accomplished with a shade from one of these palettes.
Thrive Causemetics Perfect Eye Palette Warm Neutrals: This is a pretty basic palette but I saw on YouTube on Kackie's channel that she uses this as an eyeliner palette with a slanted brush and it's waterproof and lasts super well. I have to say I agree! I'm getting tons of mileage out of this palette using it for eyeliner.
Too Faced Melted Chocolate Liquid Matte Eyeshadow: I discovered these when wandering around beauty shopping one day and I became obsessed. A little goes a MEGA long way. I blend these out with my finger and use the doe foot applicator to carefully put the shade below my bottom lash line.
Hourglass Scattered Light Eyeshadows: To me, these are gorgeous eyeshadow toppers. I have so many shades of them! They are truly gorgeous in every way. I think the olive is my favorite.
Kosas The Big Clean Mascara: I've tried so many mascaras in my life, and this is one is hands down my favorite clean mascara. It has an enormous wand and awesome ingredients that support hair growth of the eyelashes. My mascara feels soft and never crunchy when I use this. It's a fantastic formula and a must try if you are a clean beauty lover!
face makeup
Kosas Sun Show Bronzer: I have this bronzer in both Light and Medium, that's how much I love it! I use the Light most of the time. It has shea butter and meadowfoam oil, both of which are to lock in moisture and soften the skin. I love that it both sculpts as a bronzer AND has highlighting qualities. It's creamy, gives radiant glow without being sparkly, and it's so easy to use you can't mess it up. Whether I use this with a light or a heavy hand, it always looks great. I would describe it as a golden hour-esque glow powder that is great for all over the face or using just as a bronzer…whichever suits your mood the best! Bonus…it's a clean formula.
Glossier Cloud Paint in Dusk: I tried some Glossier products that people rave about a few months ago, and I got hooked on the Cloud Paint. I love the shade Dusk, which is a peachy brownish nude. It goes on super sheer and I blend it out with my fingers. It's so easy to wear, foolproof, and looks so awesome when it's on. I kind of want all the colors, but for now I'll just stick with this one since it looks good with everything!
Hourglass Vanish Airbrush Concealer: This might be my favorite full coverage concealer of all time! I find myself reaching for this so often since I bought it. LOVE. A little goes a super long way and my makeup looks perfect every time I use it.
lippies
Rare Beauty Lip Souffle: I'm always wanting to try a new clean beauty line, so when I heard Selena Gomez had one and it was coming to Sephora, I wanted to try a few things! I grabbed these lippies in both Transform and Fearless. I love the texture of these. They are longwearing and matte, but have a little bit of slip so they don't dry out my lips. I know I'll get a lot of use out of these because I got both a nude mauve and a berry shade, two of my most worn colors!
Bite Beauty Yaysayer Plumping Lip Gloss: Bite is one of my favorite beauty brands so I had to try their new gloss when it came out! These have a cinnamon scent and they are ever so slightly plumping and SO shimmery. The glitter is a little gritty but I still love the gloss because it's so shiny and fun. I don't wear it a ton but it's still one of my favorite new buys because it's so pretty!
Though I'm not really going anywhere lately, it's been fun to use some of my favorite beauty and body products at home and feel pampered. When I walk by a mirror in my house and can say "yassss girl!" I know I've given myself the boost I needed for the day!
What are some of your winter favorites right now? I'd love to hear about them in the comments.
*Some of these items were gifted, but most I bought myself. My opinion doesn't change regardless of how I came upon the products.