Skin Care Starter Kit
from L'Bri. I've been using several of their products for months now and now that my daily cleanser, toner, moisturizer, and facial peel are from this line, it was time to grab my discount. No idea what I'm talking about? I'm a fan of getting the best deal possible on the things I use in my every day life, and I love making things easy on myself. I do this with my groceries (I'm all about that 25% off auto-ship life), and I love doing it with my skincare. I want it all and I want it delivered! Curious how I paid $99 for all of this non-toxic skincare? Keep on reading!
Years ago when we first moved to southern Wisconsin, I was introduced to
L'Bri
, a skincare company that is local to the area. I remember trying a
sample set
of the skincare and falling in love. It's simple, aloe based, and inexpensive. But back then, my desire to continue trying and reviewing new skincare trumped my wish to have a consistent skincare routine. Fast forward a few years, and now I really appreciate using the same products and repurchasing over and over.
What comes in the L'Bri Skincare Starter Kit?
Full Size Skin Care:
♡ Gentle Trio
♡ Aloe Vera Barbadensis Jelly
♡ Facial Masque
♡ Rejuvenating Facial Peel
♡ Smooth n' Firm Eye Repair Gel
Full Size Body Care:
♡ Body Wash – White Tea Blossom
♡ Intense Body Butter – Mandarin Fig
♡ Daily Moisturizing Hand & Body Lotion 8oz – Cucumber
Samples:
♡ One of each set: Combination, Deep Pore, and Oil-Control Blemish
♡ Two of each sample: Facial Masque
♡ Aloe Nourishing Conditioner
♡ Rejuvenating Facial Peel
♡ Hair Repair Masque Deep Conditioning Treatment
♡ Smooth n' Firm Eye Repair Gel
♡ Body Wash – Mandarin Fig & White Tea Blossom
♡ Aloe Nourishing Shampoo
♡ Intense Body Butter – Mandarin Fig & White Tea Blossom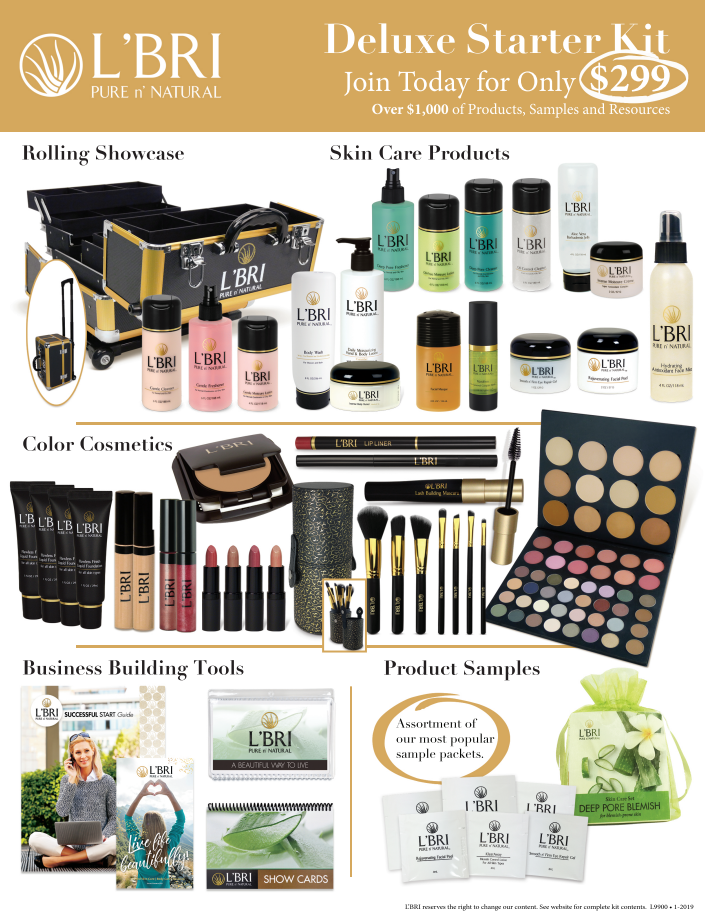 I got the lesser of the two kits, which gave me $350 worth of product, for only $99! I have never gotten such a good deal on so many skincare products at once. As time goes on, I plan to review some of my favorite products from this line. So far, I'm obsessed with the skincare trio (I use
Deep Pore
) and the
Intense Moisturize Créme
. The
Rejuvenating Facial Peel
and
Facial Masque
are among my favorite products from the line. One of the products I tried was even a
Hanacure mask dupe
!
Grab your own Skin Care Starter Kit for $99
to snag everything in the list above. Leave me a comment TODAY if you want an additional coupon for $100 off anything on their site when you order the starter kit. What skincare brands do you use the most often? Leave me a comment and let me know! I'm always looking for new products to try.
Recently, I did a thing and ordered a