This shop has been compensated by Collective Bias, Inc. and its advertiser. All opinions are mine alone. #GetJohnsonsBaby #ChooseGentle #CollectiveBias
It's the end of August and school is about to be in full swing where we live. Our almost six year old starts school in two days, and we have really been focused on getting in a good routine for the upcoming school year. Since she was a baby, we've been good at keeping a nightly ritual to help her wind down. Now that she will have early mornings, it's imperative that our kids know what to expect every evening before it's lights out time. Mornings go so much more smoothly when bedtime was a breeze, so it's important to create a nighttime routine for your new kindergartener.
Take time to chill.
Structure is key. From the moment my daughter gets home, she knows what the next step is. It's important to me that after a long day of following rules and having great behavior that she gets to wind down and just be a kid. For a couple hours, she needs to have no responsibilities besides hanging out with her sisters. I love that she can reunite with them after school and keep their bond going strong. Playing is just as important as all the reading and math she is doing at school.
Eat dinner as a family.
We always do our best to eat dinner as a family. I like to have the kids say their favorite and their least favorite part of the day. It gets them chatting and knowing we care about their day. Usually we have some good laughs together and it sparks some great conversations we wouldn't have had otherwise.
Take a bath and get ready for bed.
This is my favorite part of the nighttime ritual. We have been using the same handful of products with our kids since they were born. We love JOHNSON'S® products because they are gentle with no parabens, no phthalates, and they're hypoallergenic. If I am going to watch the ingredients in my beauty products, I should be watching what I put on my kids too and I love that the JOHNSON'S® products are more naturally derived and free from dyes and sulfates.
Our family's favorites are the JOHNSON'S® Head to Toe Wash and theJOHNSON'S® Soothing Vapor Bath. All the kids use the wash and shampoo, but Soothing Vapor Bath is a favorite for our relaxing baths. I love the baby soft skin and the calming scent. I'll be honest- I use it when I take a bath too!
Read a book and unwind for the night.
The rest of our nighttime routine is done from bed. We get out theJOHNSON'S® Aloe & Vitamin E Oil Gel and do foot rubs on the kids, which we've been doing since they were babies. They love this pampering step and the oil gel is so soft and smoothing on the skin. We put essential oils in our diffuser, say our nighttime prayers, and each kid gets to pick out one book for a total of three books. Even though they each have their own bed, they often like to sleep together. They're only this little once so we just kind of roll with it since that's the phase they're in. It won't always be this way!
So, how do you set a routine for your own family?
Consistency is key. We do the same things in the same order at the same time every night. Kids thrive on order so we try hard to stick to this schedule and it works well for us. Choose a few things that matter to your family and order them in a way that makes sense for winding down for the night.
Why does it benefit our family to have a routine?
If my kids go to bed at a reasonable hour, I have the rest of the evening to myself. I can do whatever I want! I'm sure the kids think we're up throwing parties late at night because they always beg to stay up with us but that's not the case. I usually opt to do some laundry, load the dishwasher, and write in my planner for the next day. The only way things get done is if I write them down!
When the kids are in a routine, I am able to plan my own routine a little bit better. My week consists of school pick-up and drop-off, carting the other kids to their daily activities, getting to the gym, and running to various stores. I usually make Tuesday night my Target run night since I have a few different stores in the area I hit up while my kids are at one of their nearby activities. As they say about Target, you don't go there because you need something; you go there and Target tells you what you need. Ha! Every time I set foot in that store I am finding more things I need. They have so much cool stuff for back to school and so many deals on things. That's where I picked up these JOHNSON'S baby products since they have a pretty vast collection.
From 8/12-9/1 Target has a Buy 3, get $5 gift card offer. It's instantly redeemable in-store and on Target.com.
Click through to purchase the items in the pic!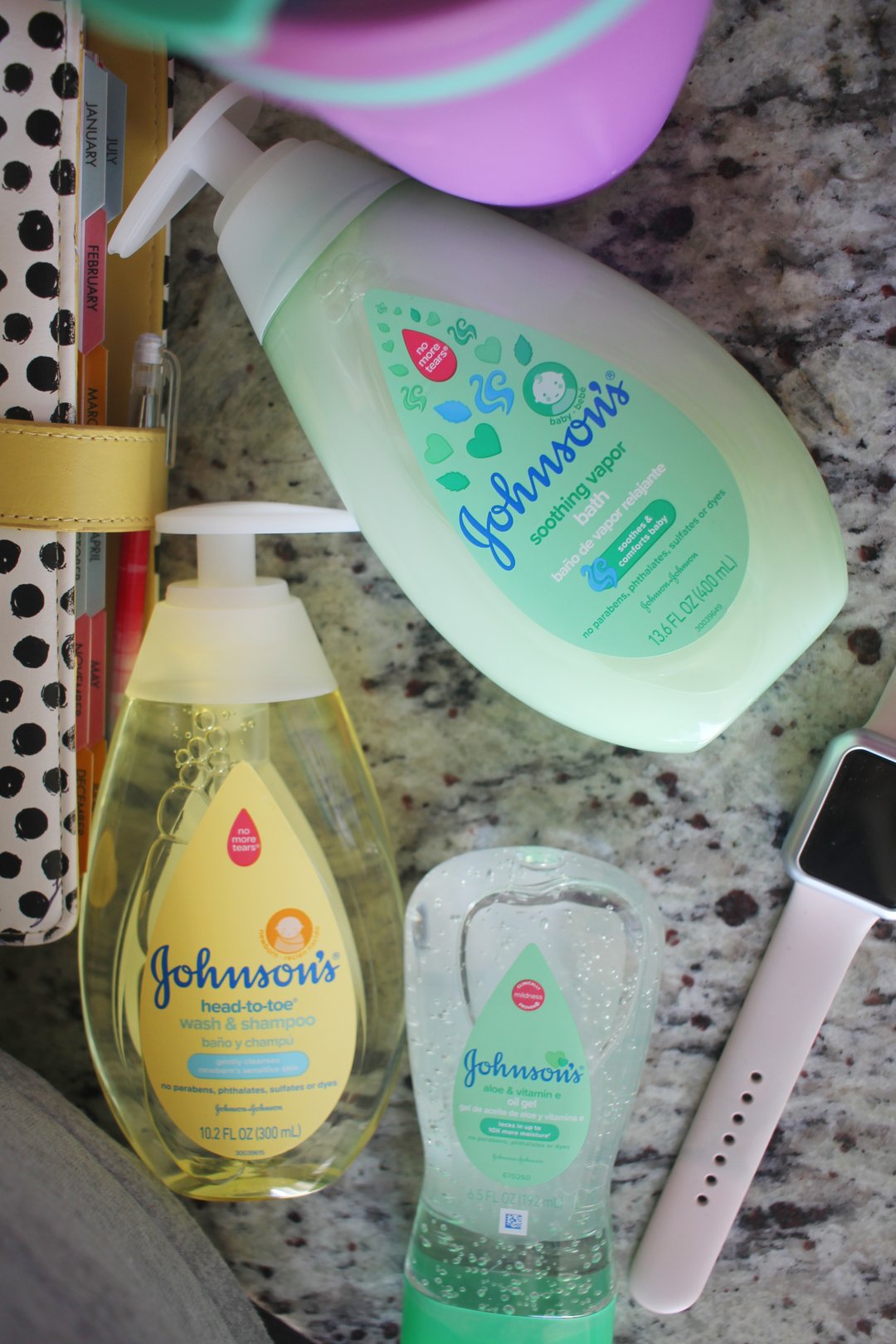 These are all of my best mom tips! Your kids NEED a routine if they don't have one. It's so important for their wellbeing (and yours!) to start one especially if they'll be starting school and having early mornings. Tell me what your school-aged child has for a bedtime routine in the comments!