In an effort to love my hair more, I'm trying to find easy ways to style it and make it cute. By easy, I mean literal wash-and-go styles. I typically heat style it straight or curly, but lately I don't want to deal with it! I've been in the mood for beach waves, the kind where I just braid my hair while it's wet and take the braids out once it's dry. I went into Ulta the other day and asked the sweet girl working what she would use if that was her goal.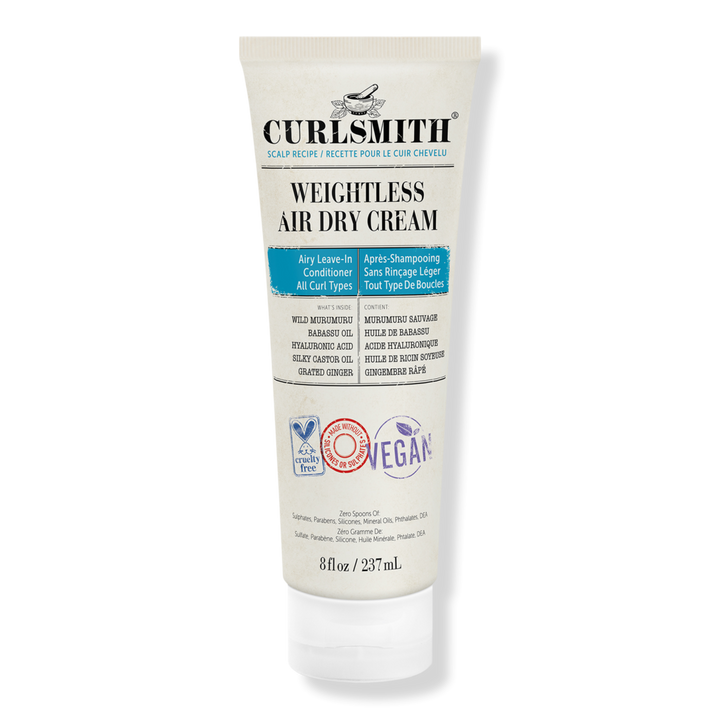 She instantly pointed me in the direction of Curlsmith Weightless Air Dry Cream. I really don't think I would ever have tried this on my own because the brand features super coily hair on their signage in Ulta, and mine is just wavy. But I'm so glad I picked it up! My method has been to use this on hair that's still wet from the shower. I'll squeeze out a bunch of the water with my hands and apply a dime-sized amount of this product all over. Then, I'll braid two braids in my hair and wait til it's nearly dry and take the braids out.
My hair ends up being kind of messy-wavy using this method. And I wouldn't have thought twice about it but people have come up to me and told me my hair looks "cute" and "what did you do with your hair, I love it!" which is not exactly the response I thought I'd get from something that took me under one minute total. Because of this, I knew I had to take to the blogosphere and fill y'all in in case anyone else out there was searching for a similar product.
Why does it work so well? I don't know! There are a few oils on the label: babassu, jojoba, and castor, along with murumuru and shea butter. I have a ton of hair and only use a dime-sized amount, and because all of these ingredients are so hydrating I don't think I'd use more than that unless I wanted to risk greasy hair.
One of my lazy-girl hair secrets that has always worked in my favor is using minimal, if any styling products. That tends to reduce the product buildup in my hair, and make it so I can get away with washing it less often. After every hair shower, I tend to reach for Moroccanoil or Invisible Oil, but when I do the easy beach waves with this product, THIS is all I am putting in my hair. I skip all other oils. This is plenty nourishing all by itself. And despite Wisconsin being very humid, I am not noticing any frizz when using this in my hair. Amazing!
P.S: I'm really loving Nars Light Reflecting Foundation in Deauville right now. I couldn't get it out of my head after the makeup artist at my friend's wedding used it on all of us. I just turned 37 and I think it looks like real skin on me without being cakey. Have you tried it?
If you're looking to create easy beach waves on yourself while air-drying your hair, give this a try! I hope it works for you as well as it has worked for me! As always, leave me a comment if you give it a try and let me know how it went.